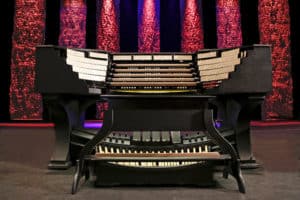 The Marshall & Ogletree George W. Mergens Memorial Organ, a gift from Alex W. Dreyfoos, was custom-designed for the Kravis Center and made its premiere on March 9, 2016. The one-of-a-kind, $1.5 million digital organ features the world's most advanced technology, with an impressive ability to intensify sounds to an entirely new level.
With 5 manuals, more than 200 stops and 96 audio channels, the Marshall & Ogletree Opus 11 Digital Organ is capable of reproducing approximately 18,000 different sounds digitally recorded from the finest pipe organs around the world. The first organ of its kind to be installed and featured in a performing arts center worldwide, it commands nearly 300 high-definition sounds sampled from 35 American pipe organs and has the biggest sound system of any instrument that Marshall & Olgetree has ever built.
Named in honor of Alex Dreyfoos' longtime friend and business partner, George W. Mergens, the organ permanently resides at the Kravis Center where it can be utilized in Dreyfoos Hall and Rinker Playhouse, Dreyfoos with 96 speakers and Rinker with 24.
Technological details of the Kravis Center George W. Mergens Memorial Organ
Organ technological specifications
5 Manuals
200+ Stops
96 Audio Channels
Ability to reproduce approximately 18,000 sounds
Console details
Console style is a modern terraced stop tablet design, similar to the M&O International Touring organ in design and construction. Interior woods are finished in gloss black.
Five-manual keyboards of full-length wood design, supplied by P&S of England feature faux-ivory naturals and solid ebony sharps, including Skinner-type (compass-spring) resistive touch for all keyboards.
Rocker tablet stop solenoid units were manufactured by Peterson Electro-Musical Corp., with Corian color-coded tab heads. All controls are deep-engraved and inked by hand.
Twelve general pistons and 8 felted divisional pistons per division, plus standard coupler reversible pistons and required control pistons, coupler matrix piston system employed for space savings.
Harris Precision toe pistons for Next and Pedal divisionals on angled bolsters.
Four expression shoes by Harris Precision and an adjustable console bench.
Music rack with glass or wood back panel.
Thirty-two-note standard AGO spec pedalboard of solid matching wood.
Console control system: Marshall & Ogletree ForesightTM system, including control pistons and 4-line display for all menu functions, and pistons for power, menu, memory level, transposer, and master tuning, 256 memory levels built in (additional storage on FLASH memory stick); adjustable Crescendo and Tutti; MIDI record/playback functionality; 2-line vacuum-fluorescent displays above each division indicate division name and current setting of each Alternate Stop. The organ console output is a standard computer network cable.
Press Releases 
Technology Meets the Arts During History-Making Digital Organ Performance
Kravis Center to Make World History on March 9