Kravis-On-The-Road takes arts education programming into the classroom and into the lives of many students who might not otherwise have the opportunity to experience live theater. For more information, call 561.651.4251.
With support from The Palm Beach Country Club Foundation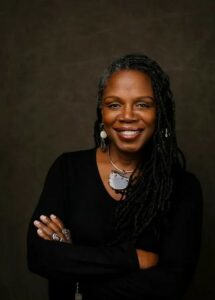 TAHIRA
FOLKTALE FUN
October 11 & 12  WAITLIST ONLY
Performance Length: 45 minutes 
Suggested Grade Level: K-5 
Suggested Curricula: Social Studies, Language Arts
Clever spiders, signifying monkeys and grinnin' buzzards are just some of the intriguing characters in Folktale Fun. This interactive program is ideal for elementary school-aged children. Performing in her signature high-energy style, a master storyteller. Tahira captivates young audiences while imparting universal values such as appreciating differences and being kind with your words.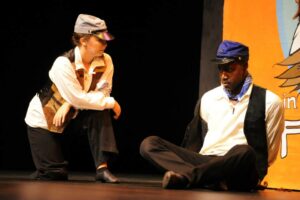 STORYMAKERS 
ONCE UPON A TIME…IN FLORIDA
October 23 – November 3 WAITLIST ONLY
Performance Length: One hour 
Recommended Grade Levels: 3-8 
Suggested Curricula: American History, Civics, Music, Social Studies, Theater 
We got some tales for tellin', some are tall and some are true. But we wont tell you which is which. We'll leave that up to you! So begins this delightful version of the popular production, Once Upon a Time…In Florida, which brings five tales of our great state vividly to life. How? With storytelling, pantomime, music, drama and even some audience participation! The energetic cast invites students to decipher fact from fiction and to enter a world that provides a unique insight into the history and folklore of their home state.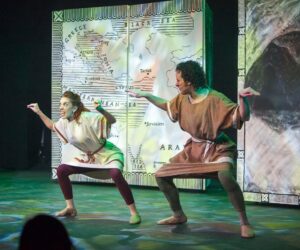 STORYMAKERS
THROWBACK: A MEGA-MYTH MASHUP
November 27 – December 8 WAITLIST ONLY
Performance Length: One hour 
Suggested Grade Level: 4-8
Suggested Curricula: Language Arts, Social Studies, Theater 
You probably know by now that history is StoryMakers' jam! And this time it's a mythic mashup of tales from the ancient world. So…what if Odysseus (Ulysses) teamed up with Aeneas (uh…Aeneas) after the Trojan War? And, what if Echo won't shut up and Narcissus won't stop looking at himself? Annoying? Yeah. And what if the Cyclops (one eye) meets Argus (a hundred eyes)? Would they "see" things differently? Don't look now. From Mesopotamia and Egypt to Athens and Rome, we'll mash up the madness without making a major mess; maybe. It's very smart and STUPID fun! And also alliterative.
(See what we did there?)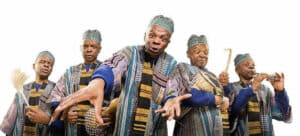 J'MIAH NABAWI
THE TELLING OF ANANSI TALES
January 11 & 12 WAITLIST ONLY
Performance Length: 45 minutes
Suggested Grade Level: K-3
Suggested Curricula: Language Arts, Social Studies
Agoo-o-o!
(Attention, everybody!)
Anansesem, The Telling of Anansi Stories is oral tradition in the musical-dance-folklore genre of African storytelling and brings with it its less known companion, MMOGUO, the accompanying recreational folktale songs that may happen to move Anansi stories along from one story to the next with audience participation. There's rhythm in the telling of Anansi tales as the stories are told, sung, danced and drummed. Come ready to listen, learn, dance and play!

Kravis-On-The-Road Request Form