SUMMER PROGRAMS

KRAVIS CREATES!
Connect, imagine and create your world through the performing arts. Young artists will be guided by the Kravis Center's professional teaching artists through creative week-long workshops in various arts specialties, including acting, dance, spoken word, script writing and stop motion filmmaking. This virtual program is for ages 9-18.
Sponsored by
Rita and Charles Bronfman
Writing for the Theater: Monologues, Scenes, and Short Plays
Instructor: Dr. Susan Wemette
June 28 – July 2
10:30 – 11:30am
Recommended Age: 11-18
This class will guide young writers through the process of creating three pieces of dramatic writing: a monologue, a short scene, and a ten-minute play. Over the course of the week, students will learn about playwriting, theater vocabulary, formatting, dramatic structure, character development, and how to create compelling dialogue. The class will culminate in the creation of three original short pieces of theater, demonstrating both creativity and basic playwriting skills.
Architext
Instructor Jashua Sa-Ra
July 12 – 16
10:30 – 11:30am
Recommended Age: 11-18
This innovative class explores writing and performing lyrical language. The process produces self-confidence, enhances literacy, activates creativity, and prepares students to perform their own works before an audience. At the end of the week, students will perform their inspiring work for their peers.
Ready, Set, Stop Motion!
Instructors: Kravis Center Film and Video Department's Jon Glassman, Kenneth Greenbaum, Matthew Wilt
July 12-16
1:00 -2:00pm
Recommended Age: 9-15
The Kravis Center's Film & Video Department offers this highly imaginative class on Stop Motion. Stop motion is the creative technique in which physical objects are moved in small increments and photographed and edited together to convey the effect that the object has moved on its own.  Students will learn the history of stop motion and how it has been used in aspects of advertising and in entertainment (such as Gumby, Wallace and Gromit, or The Nightmare Before Christmas). Creative experimenting will start with cut fruit, then move on to a household toy, and finally live actors. Students will learn camera, lighting, and basic stop motion techniques, as they enjoy conceptualizing, producing, and finalizing their very own stop motion scene to be showcased on the final day. Requirements: smart phone, iPad, or tablet.Stop motion app: Stop motion studio. Free version will suffice (by Cateater).
Collection of objects to animate
Suggested: tripod or stand for device
"Dance it Out!" in Musical Theater
Instructor: Lindsay Bell
July 19-23
10:30 – 11:30am
Recommended Age: 9-15
Lindsay Bell is a dancer, actor, singer and choreographer who has performed, toured and choreographed at many prestigious theaters and stadiums in America and Canada. She provides an active and engaging Musical Theater dance class where participants build on dance technique and explore various dance styles used in Broadway shows. Dancers will train and refine their performance skills; all while paying special attention to connecting to the audience and telling the story through movement and emotion.
House of Visual Art
Instructor: José Mendez
July 26 – 30
10:30 – 11:30am
Recommended Age: 9-15
Young artists will create works of art by using items found in the home. Students will learn the fundamentals of basic drawing and will explore using found objects to create sculptures and crafts. Each day of the week, students will meet the challenge of creating something new to share with family and friends.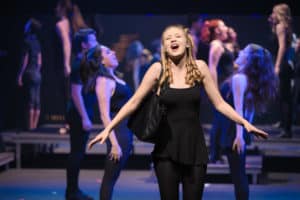 THE BROADWAY ARTISTS INTENSIVE

This by audition only, musical theater training program, is for talented students ages 14–21. The faculty is comprised entirely of Broadway professionals from New York, offering the experience of more than 100 major musical productions. During the three-week summer program, students are immersed in the three major areas of the performing arts: acting, voice and dance. Curriculum includes acting, vocal technique, vocal repertoire, ballet, jazz, theater dance, tap, audition technique and improvisation. For more information, visit thebroadwayartistsintensive.com. See the TBAI video.