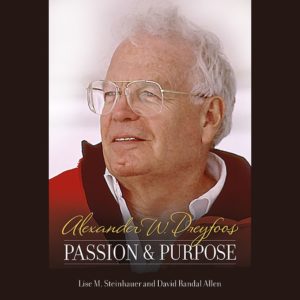 The great achievements in a man's life do not occur in a single moment, but are the result of his experiences to that point. For Alex Dreyfoos – called "a visionary," "a Renaissance man," and "the smartest man I know" by long-time friends and colleagues – the achievements are many. All reflect his PASSION for living and his tenacious sense of PURPOSE in everything he does.
His heritage, his lifetime passion with photography, his business and philanthropic ventures, as well as his adventures above and below the water make up this story of PASSION & PURPOSE.
Between the covers is a trip back in time, and literally around the world, a circumnavigation that required just such a man of PASSION & PURPOSE, going to great lengths in the era of modern piracy. This fully approved biography combines as sources interviews with Alex Dreyfoos and with many who have known him well, and private and public documents and publications.
Please note that proceeds from the book sales benefit the Kravis Center, a 501(c)(3) not-for-profit corporation.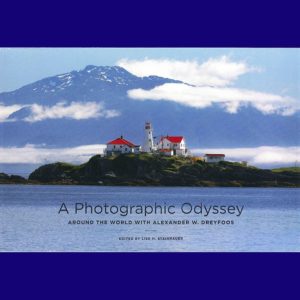 Few photography books of this geographic scope are the product of one man, and even fewer are by one man who is not a professional photographer. Divided into six regions, the images reflect the worlds depths – under waters such as the Red Sea and the South Pacific Ocean – as well as its heights – looking DOWN on Mt. Everest. This life journey visits forests, jungles, glaciers, and deserts, in locales as extreme as Papua New Guinea and Antarctica. The perspectives vary as well – on land, on the water, and from the air. The subjects are the most divergent: the solid surfaces of palaces and temples contrast with the vulnerability of people from childhood to old age, captured at work and study, in prayer and dancing in joy. Sea otters and sea urchins, giraffes as giant tortoises are among the many other species seen in their native habitats.
Alexander W. Dreyfoos counts himself as a fortunate man to have made this journey. These images, selected from over 100,000 in his collection, encompass the years from 1950 to 2014 and reflect over 60 countries. Those in the early decades have a historical aura, and many others may soon join that group as cultures evolve, and our dynamic environment eliminates or recovers species. A secondary history is in the great change in the medium of photography since the author first took up a camera. Prior to digital photography, he primarily used Kodachrome color slide film.
A pilot most of his life, the author has created beautiful aerial views from his various flying machines. Many other images come from travels aboard his three yachts named "Silver Cloud," including one 44,000 nautical-mile, 19-month voyage that nearly encircled the globe. Visit this "Photographic Odyssey," and let him take you around the world.