Thank you for your interest in visiting the Kravis Center. Please know that we take the health and safety of our visitors, artists, volunteers and staff seriously and will continue to follow the latest, most current Centers for Disease Control and Prevention (CDC) guidelines to assist with slowing the spread of COVID-19.
We have instituted regular precautionary practices in our facilities which include enhanced cleaning and frequent disinfecting, including specifically high traffic and high touch areas, restrooms, and both front of house and back of house areas. We have installed new ion and UV-C technology that is known to be effective against airborne pathogens into all of our public space air handlers to ensure superior indoor air quality. In addition, hand sanitizing stations will be available throughout our facilities for your convenience.
If masks are considered desirable and appropriate protection by the CDC for venues similar to the Kravis Center at the time of your visit, we will be requiring masks of both staff and audiences.
If, within 14 days of your scheduled visit to the Kravis Center, you and/or members of your party have been in contact with anyone diagnosed with COVID-19, traveled to or from areas of substantial community spread, or if you have experienced any of the symptoms listed below, we ask that you please stay home and contact our Box Office.
• Fever of 100.4 degrees or higher
• Cough
• Shortness of breath or difficulty breathing
• Sore throat
• New loss of taste or smell
• Other flu-like symptoms
There is always a risk of exposure to COVID-19 in any public place where people are present. The Kravis Center realizes that it cannot eliminate all risk but is committed to attempting to minimize the risk to those coming to our facilities.
Our efforts, however, do not replace important practices to keep yourself well, including vigilant hand hygiene, staying home when symptomatic and social distancing wherever possible.
Please know we intend to implement visitor policies in a flexible way depending on the varying level of disease transmission in our community. As a result, our visitor guidelines will continue to be refined based on the updated guidelines of the CDC and our local public health officials.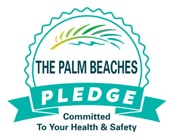 REFER BACK TO THIS PAGE FOR UPDATES REGARDING INFORMATION ON OUR VISITOR POLICIES FOR COVID-19.